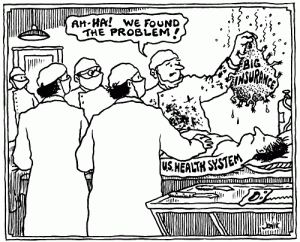 Despite being the world's top economic power, the US remains the sole industrialized nation in the world without universal health care coverage. The prohibitively high-cost of healthcare (not the lack of insurance) is the primary reason Americans give for problems accessing health care. A 2012 study for the years 2002–2008 found that about 25% of all senior citizens declared bankruptcy due to medical expenses, and 43% were forced to mortgage or sell their primary residence.
Healthcare would be more affordable if we regulate the cost of prescription drugs that "Big Pharma" is charging Americans and regulate the cost of medical procedures and doctor visits. Medical billing codes should be standardized and consistent among providers and all insurers across the U.S., including private insurance, Medicare, Medicaid, and Veterans Health Administration. Furthermore, VA medical benefits should be portable. Any doctor practicing medicine in the United States should be required to accept Medicare, Medicaid, and VA benefits.
We also need to focus on healing, rather than masking or maintain health problems. For example, there are alternative treatments such as laser surgery, cord-blood stem cell treatments, and holistic treatments that actually fix the medical problem. These types of services should be covered by medical insurance plans including private insurance, Medicare, Medicaid, and VA medical benefits. These types of treatments are generally less expensive than traditional treatments and could help patients avoid expensive surgery, long recovery times, and the need to use prescription drugs. All and all it would be a big win for all Americans and the U.S. Government who is subsidizing 64% of health care spending in 2013.
Experimental drugs should also be made available to terminally ill patients at reasonable costs, covered by private insurance, Medicare, Medicaid and VA.
No one should be turned away at the pharmacy because they cannot afford the prescription drugs that they need to survive. This is happening every day in America and affects American taxpayers. Drug prices should be consistent from drug store to drug store and across the country. The cost of prescription medicines in the U.S. should not be higher than what the same drugs cost in other countries.

I will support fellow legislators in passing H.R. 1058, the Seniors Financial Security Act. This important bill amends the Internal Revenue Code to repeal the income tax on social security income. Social Security deductions are not pre-tax deductions from our wages, so why should we pay taxes again on this income when we retire? Most retired individuals rely on their monthly social security check to pay the bills and put food on the table. Taxing that money puts a tremendous strain on their finances. I also believe that we should not be "robbing Peter", which is the Social Security Fund, to "pay Paul". Paul needs to look for his own resources.


America is #1 in the world in child sex trafficking and Arizona is #3 in the U.S. Very little is being said about this horrific crime. $32 billion a year is made from child sex trafficking and $92 billion a year is made from child pornography that we know of.
In 2006 the proceeds from child sex trafficking surpassed the sale of illegal weapons in the U.S. In 2017 it surpassed the sale of illegal drugs. Drugs can only be sold and used 1 time, but a child can be trafficked over and over.
It is my mission to fight for our children. One of my first acts in Congress will be to present legislation that will crack down on both the sellers and the buyers of children for sex and child pornography. This is not a political party issue, this is a problem that effects all Americans.
The ages of children that are being trafficked for sex in the U.S. are between 2 years old and 18 years old, both girls and boys. Not all of these children are runaways or kidnapped. The Cartels are targeting our children at schools, malls, and events. They are slowly lured into working for the Cartels while still living at home and going to school. Parents often are not aware of what is going on and cannot understand why their child is developing emotional and behavioral problems.
Our children need a champion, but I cannot take on the Cartels without your support. Your vote and your contribution will help me make it to Congress. Even if you are not in my district, your contribution will help me win my race and get the message out that we will no longer tolerate the exploitation of our children.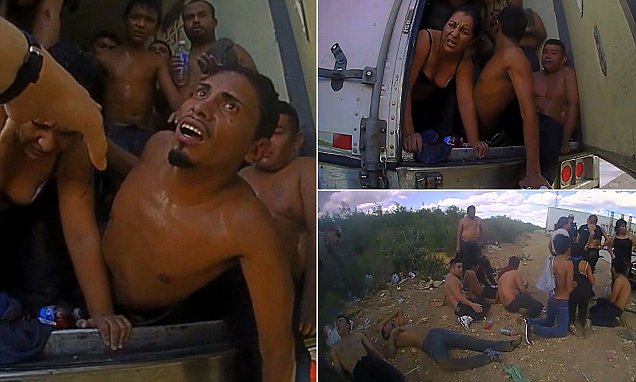 Human Trafficking is the modern term used for slavery. Slavery is against the U.S. Constitution, and it was abolished. However, we have become #1 in the world when it comes to human and child trafficking - not a statistic to be proud of.
It is my mission to pass new legislation that will strengthen our laws to help combat and eliminate this human atrocity. We must not allow this to continue in the 21st century. Preventing human trafficking also means securing our border.
Trafficking does not only effect illegals, it also reaches into our homes and grabs ahold of our children. Please contact me using the contact form on my website if you would like additional statistics or would like me to speak to your group, church or school.
BALLOT INITIATIVE 2020
I am sponsoring a State Ballot Initiative for the Arizona 2020 general election that will attract BILLIONS of dollars to our economy as well as higher paying jobs. The initiative (I-17-2020) will give the film and digital media industry a 35% tax credit for new eligible projects. This will be the highest tax credit offered throughout the United States. The income and sales tax revenue generated by the economic boom resulting from this aggressive tax credit will be allocated specifically to K-12 Public Teacher Pay, to help reduce in-state tuition, and for infrastructure.
By 2030 15% of the world's workforce will be eliminated. By 2040 40% of the world's workforce will be eliminated. The factor that will be eliminating jobs and changing the entire face of trade around the globe will be through AI and automation. One of the AI robots has already been given citizenship by Saudi Arabia, and her name is Sophia. Please check out my videos. If you are a union, please invite me to speak. Contact me through this site.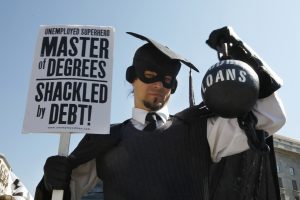 It is no secret that our millenials are buried in student loan debt and many cannot get a job that will pay them enough to repay their debt. I have 2 solutions for our Arizona students.
#1) Go back to the old system of being able to discharge student loan debt in bankruptcy. This can only be done at the Federal level. Making student loans dischargeable means the groups that give out student loans may start becoming more responsible as to what type of loans they are giving out, and stop creating indentured slaves!!! This may also help drive down the cost of higher education.
#2) I want to bring $7 BILLION dollars a year into Arizona. The tax revenue generated by this economic boom can be used to help fund public education and specifically teacher pay in Arizona and higher paying jobs for students and graduates. This can be accomplished by offering a tax credit to the film industry, like Georgia and 34 other states have done. I have drafted legislation that we need to get on the 2020 ballot in Arizona. Arizona used to offer it, but it was repealed and as a result filming in Arizona plummetted.
Help me help you by signing my petition which you can do from my "Sign Petition" page. Because I am running as an Independent, you can sign my petition regardless of your party affiliation. If you are not registered to vote, there is a link on that page so you can register on-line.
I also need volunteers who will help me with my campaign and to share and promote my proposed state legislation for a film tax credit with all of your family and friends.
Border Security and Immigration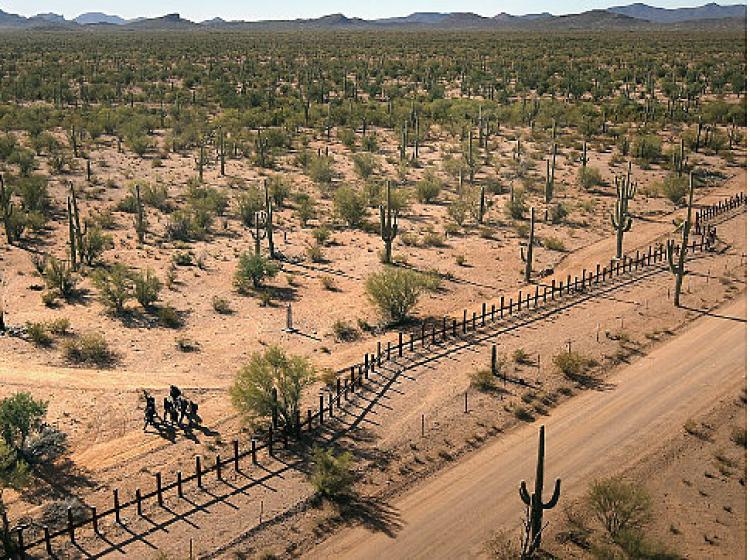 In order for our immigration system to work, we must secure our borders. While the recent political rhetoric has been focused on our southern border, we must look at this issue with a broader perspective because we have more than just 1 border and people are entering our country through many different means. We should be using high-tech solutions. For example, we can use sonar sensors and radar as well as drones and satellite for surveillance. Furthermore, our border area underground should have seismic sensors that can detect anyone tunneling or travelling under the ground surface. This will cut down on the illegal transportation of drugs, guns, and human trafficking.
To pay for additional resources, I suggest 2 methods:
First is to take any illegal drug money seized and put it into the border security fund that will be shared with all agencies involved in securing the border and drug control.
Second is to have a national lottery. The lottery should be a Federal project, tickets sold on the internet, not through state lottery systems or in stores because some states may try to block the sale of it. There should also be special tax exemptions given to winners.
Then we need to bring in the DACA recipients. They have grown up in our country, been educated in our country, are working and paying taxes and many of them are starting their own families. We cannot divide families by rounding up the DACA recipients.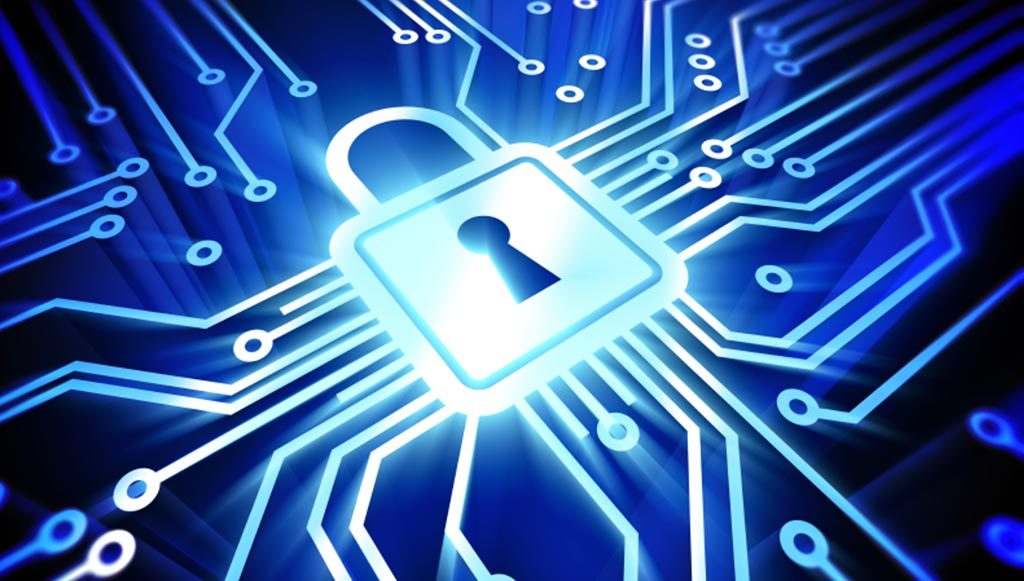 Cyber-security has become one of the greatest threats to our nation, our national security, and you and me. Not only do we need to secure our banking system and power grids, but we also need to protect our citizens whose private information is being hacked daily. The thought that someone can ransom your computer and private information for money, and there is no one to turn too, is shameful. We need to start taking these hackers down by supporting Federal enforcement agencies so the average citizen has someone to turn to. Attack our people and you attack our country and we need to treat these criminals as enemies of the state. I don't care if they use a telephone to extort money from you or highjack your computer… they are going down. It has to stop and I need your help to take them out.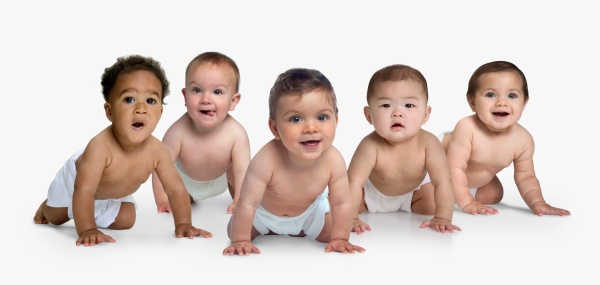 I believe in the sanctity of all human life, including an unborn child. I will support legislation that restricts Federal funding from any organization or medical provider that offers abortion or abortion related services.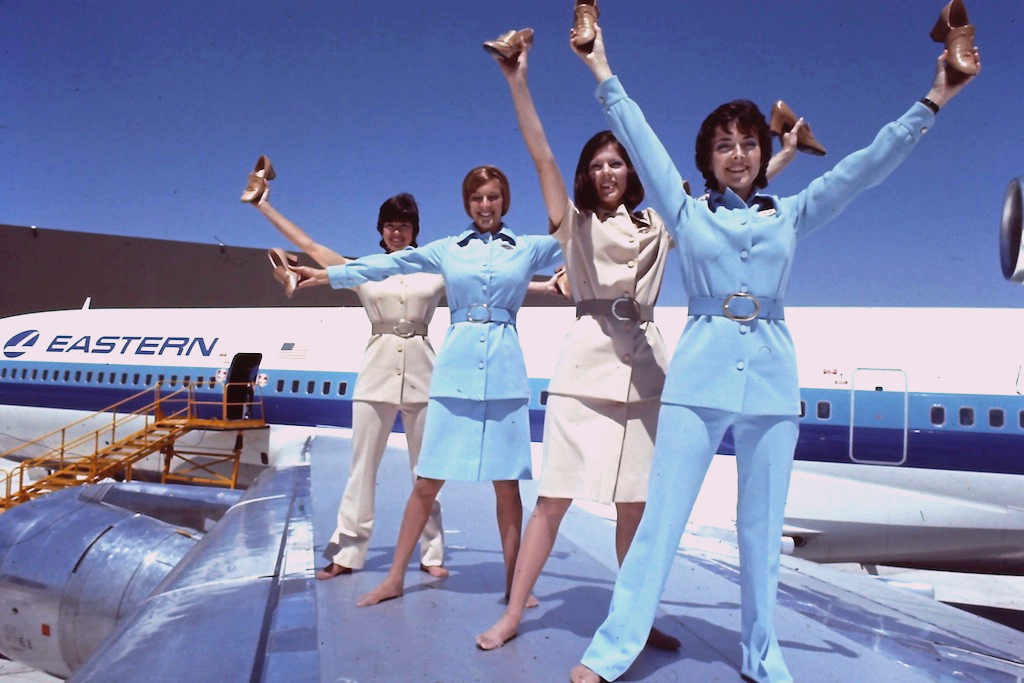 There has been a lot of contention in the Phoenix, Tempe and Scottsdale areas regarding flight paths coming in and out of the Sky Harbor International Airport. I will work with the FAA, the Municipal Air Traffic Committees, Community Leaders and fellow Congressmen to ensure that the noise pollution impact of flight paths over the affected areas is significantly reduced without reducing the commerce and the convenient travel in and out of our great state.